The Heart of the Home Cookbook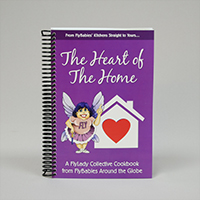 $9.95 plus shipping
Quantity
Please enter desired quantity above and click "add to cart".
We gladly accept
.
Please allow approximately 2 weeks for domestic deliveries and up to 4 weeks for international deliveries. We accept
mail
,
fax
or
online orders
.

The Heart of the Home
We collected family-favorite recipes from FlyBabies all around the world. After sorting through them, we compiled a wonderful collection (260 pages) for all of you to enjoy. We wanted to put together a community cookbook to remind you that you are a part of something special. This cookbook will remind you that you are never alone when you are FLYing.
The Heart of the Home Cookbook is spiral bound, 9 inches long and almost 7 inches wide.
Copyright 2011 - 2017 FlyLady.net