Eric Dodge - A Christmas Wish CD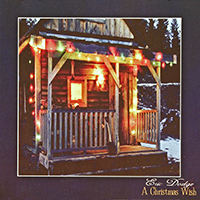 $10.95 plus shipping
Quantity
Please enter desired quantity above and click "add to cart".
We gladly accept
.
Please allow approximately 2 weeks for domestic deliveries and up to 4 weeks for international deliveries. We accept
mail
,
fax
or
online orders
.

Eric Dodge ~ A Christmas Wish
This CD contains 10 tracks, produced in the same quality studios that all of Eric's music has been recorded.
Silent Night
O Holy Night
I Heard The Bells On Christmas Day
Away In A Manger
Grown Up Christmas List
White Christmas
Have Yourself A Merry Little Christmas
I'll Be Home For Christmas
The Christmas Shoes
Let There Be Peace On Earth
Copyright 2011 - 2016 FlyLady.net