Mop Head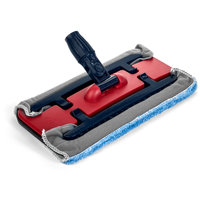 $17.95 plus shipping
Quantity
Please enter desired quantity above and click "add to cart".
We gladly accept
.
Please allow approximately 2 weeks for domestic deliveries and up to 4 weeks for international deliveries. We accept
mail
,
fax
or
online orders
.

The Mop Head is 6 inches wide and 12 inches long. There are clamps on either side of the Mop Head to hold the microfiber cloth in place. The mop comes with 1 blue microfiber cloth. You can use these cloths damp or dry. We have found that the blue mop cloth should be used with the thicker side down for dry dust mopping and the shinier side down for damp mopping. This mop is not a replacement for a standard broom or a regular wet mop. The FlyLady Mop is to be used as a dry quick mop to grab up hair, lint, dust dirt and as a damp mop for a quick clean up and shine.
Hand wash with dish soap in hot water or machine wash with laundry detergent. Rinse thoroughly. Do not use bleach (bleach will shorten the life of your micro fiber cloths.) Do not use fabric softener (fabric softener leaves a film on the cloths.) Be careful when machine washing or drying in mixed loads (micro fiber cloths will pick up lint from other fabrics.) Air dry or put in dryer on low heat. Colors may bleed during first washing.
Copyright 2011 - 2017 FlyLady.net