ALL OTHER DISCOUNT CODES, PROMOTIONAL OFFERS, SALES, ETC. ARE EXCLUDED ON THIS ITEM
This is a fabulous detail dusting tool plain and simple. It is a mitt that goes over your hand that is made of microfibers. One side is microfiber loops and the other side is a microfiber cloth that will grab dust, dirt and lint. You can use this Detail Dust Mit for just about anything, especially those times when you would normally reach for a paper towel.
The duster is a pink, 6x9 Detail Dust Mitt with a comfort elastic wrist band to keep mitt in place.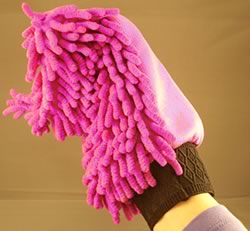 Detail Duster in use.
Washing instructions - Machine wash with detergent only - absolutely no fabric softeners - do not use bleach (bleach will shorten the life of your microfiber cloths). Do not use fabric softener (fabric softener leaves a film on the cloths). Be careful when machine washing in mixed loads (microfiber cloths will pick up lint from other fabrics). Let air dry flat and use again.

PLEASE NOTE: DUE TO THE DYE CONTENT OF THE DETAIL DUST MITT, IT IS ADVISED THAT YOU WASH (ALONE IN WARM WATER WITH DETERGENT) PRIOR TO USE.