FlyLady's "I'm So Proud of You" Pencils (12 pack)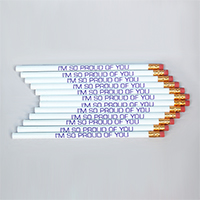 $5.95 plus shipping
Quantity
Please enter desired quantity above and click "add to cart".
We gladly accept
.
Please allow approximately 2 weeks for domestic deliveries and up to 4 weeks for international deliveries. We accept
mail
,
fax
or
online orders
.

You have asked for them to give to your children, grandchildren, and your students. Here they are! They will bring a smile to their faces and yours! I'm So Proud of You! It is like a hug when you aren't there to give it!
There are 12 high quality pencils with #2 lead included in this pack.
Copyright 2011 - 2017 FlyLady.net