Saving Dinner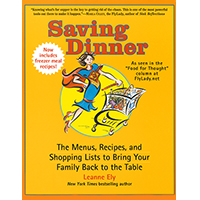 $16.00 plus shipping
Quantity
Please enter desired quantity above and click "add to cart".
We gladly accept
.
Please allow approximately 2 weeks for domestic deliveries and up to 4 weeks for international deliveries. We accept
mail
,
fax
or
online orders
.

Certified nutritionist Leanne Ely has a simple philosophy: "Make it and they will come." Dinner, that is. Take-out, opening a can, or microwave fare shouldn't pass for a nice, healthy meal - and nothing can replace a family's time together. Believe it or not, preparing dinner can be a stress-free endeavor. Even your time in the supermarket can be cut in half!
Full of practical tips on simple, healthy meal planning, Saving Dinner is the ideal solution for today's busy parents who would love to have their family sitting around the dinner table once again - sharing stories along with a nutritious meal.
Copyright 2011 - 2017 FlyLady.net