FlyLady's Rubba Swisha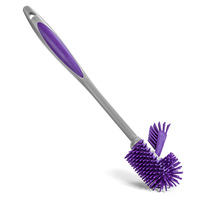 $9.95 plus shipping
Quantity
Please enter desired quantity above and click "add to cart".
We gladly accept
.
Please allow approximately 2 weeks for domestic deliveries and up to 4 weeks for international deliveries. We accept
mail
,
fax
or
online orders
.

For years, members have asked us what kind of toilet brush to use. Our answer remains that any toilet brush will work as long as you actually use it. However, when we saw how well the Rubba Tools cleaned with just water, it made us think offering a Rubba Swisha this would be an amazing tool for our daily swishing and swiping.
The FlyLady Rubba Swisha is 17 inches long and has a round head for washing the bowl and a special side brush to get up and around the rim of the bowl. The Rubba Swisha has the same purple bristles and grey handle as the other Rubba products.
Copyright 2011 - 2017 FlyLady.net