The FlyLady Mop Refill Cloths
A package of 3 microfiber cloths for use with the FlyLady Mop. The blue microfiber cloth measures approximately 11 1/2 inches wide and 12 1/2 long.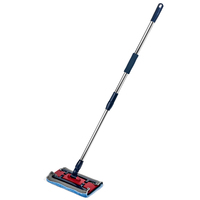 Click here to learn all about the wonderful FlyLady Mop!
Hand wash with dish soap in hot water or machine wash with laundry detergent. Rinse thoroughly. Do not use bleach (bleach will shorten the life of your micro fiber cloths.) Do not use fabric softener (fabric softener leaves a film on the cloths.) Be careful when machine washing or drying in mixed loads (micro fiber cloths will pick up lint from other fabrics.) Air dry or put in dryer on low heat. Colors may bleed during first washing.