FlyLady Handle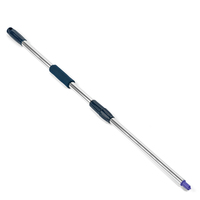 $8.00 plus shipping
Quantity
Please enter desired quantity above and click "add to cart".
We gladly accept
.
Please allow approximately 2 weeks for domestic deliveries and up to 4 weeks for international deliveries. We accept
mail
,
fax
or
online orders
.

The FlyLady Handle when fully extended is 52.5 inches long; when not fully extended, it is 31.5 inches long. Our newest design fits the Multi-Wand, FlyLady Mop Head and the Rubba Sweepa Broom Head. The Handle attaches to the Mop Head via a compression collar; you'll find the compression collar attached to the Mop Head when it arrives to you. The threads at the bottom of the Handle are for attaching it to the Rubba Sweepa Broom Head and the Multi-Wand.
Copyright 2011 - 2017 FlyLady.net