The FlyLady Sticker Kit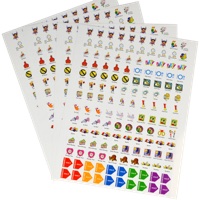 $5.95 plus shipping
Quantity
Please enter desired quantity above and click "add to cart".
We gladly accept
.
Please allow approximately 2 weeks for domestic deliveries and up to 4 weeks for international deliveries. We accept
mail
,
fax
or
online orders
.

The FlyLady Sticker Kit can be used with the FlyLady Calendar, or with any other calendar. The Kit includes over 500 specially designed FlyLady stickers to help you plan your busy week. They include: School Event, Make Menu,Birthday, No School, Desk Time, Doctor, Dentist, Vet, Date Night, Me Time, Free Time, Anniversary, Sports, Vacation, Renew Your Spirit, Party, Zone stickers and more.
Copyright 2011 - 2017 FlyLady.net