I'm So Proud of You Pens (10 pack)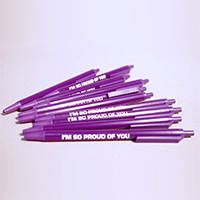 $11.95 plus shipping
Quantity
Please enter desired quantity above and click "add to cart".
We gladly accept
.
Please allow approximately 2 weeks for domestic deliveries and up to 4 weeks for international deliveries. We accept
mail
,
fax
or
online orders
.

Our FlyBabies love the purple "I'm so Proud of You!" (black ink) pens that are included with each of the sticker kits. You have asked us how you can buy just the pens in bulk...so here it is: the Ten Pack!
Copyright 2011 - 2017 FlyLady.net